Rent a beach bike in Valencia to not depend on public transport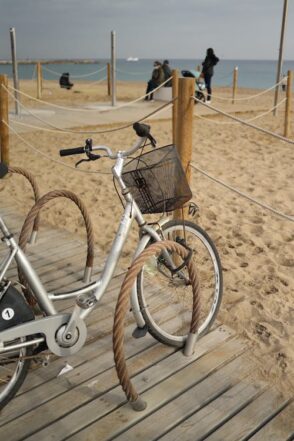 Santa Marcelita Bikes has the perfect solution for you: from a few hours until one week, you can rent a second-hand beach bike in Valencia. For more information about our offer, the catalog is available directly on our website. Once you have chosen, you can easily make your booking online. Do not forget that if you stay longer, you can also buy the same bikes at our store.
Now that you have a convenient way to get around the city, let us advise you on the places you could visit! Our bicycle tour starts on the edges of Spain's third largest city by population, from the surroundings of the shop, on the beach of Valencia.
As an initial step, Malvarrosa beach is the most famous beach of Valencia. Its name comes from the fact that it became a rose plantation in the XIXth century. With its nearby tramway, it inspired a Spanish novel from Manuel Vicent. Many options are available to enjoy the setting, as well as a range of water activities.
Not far from there, you can cycle through the Marina, which is full of good bars and restaurants. Continue your bike ride in the Cabanyal district, displaying colorful houses and a lot of street art.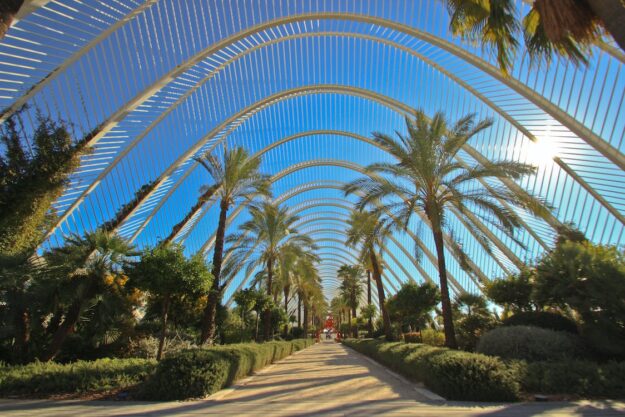 To get closer to the city center, you will have to cross the Turia Gardens. From the late XXth, the course of the Turia river has been diverted, following the great flood of 1957. The gardens were created by the architect Ricardo Bofill. Their design is inspired by Arab gardens and it is divided into 12 parts. The first sections are dedicated to sports and bikes and the last ones are more classic. On this path, you will encounter the well-known Music Palace from the National Architecture Award winner, José María de Paredes, and characterized by its large windows, giving spectators a charming view of the park and the pond.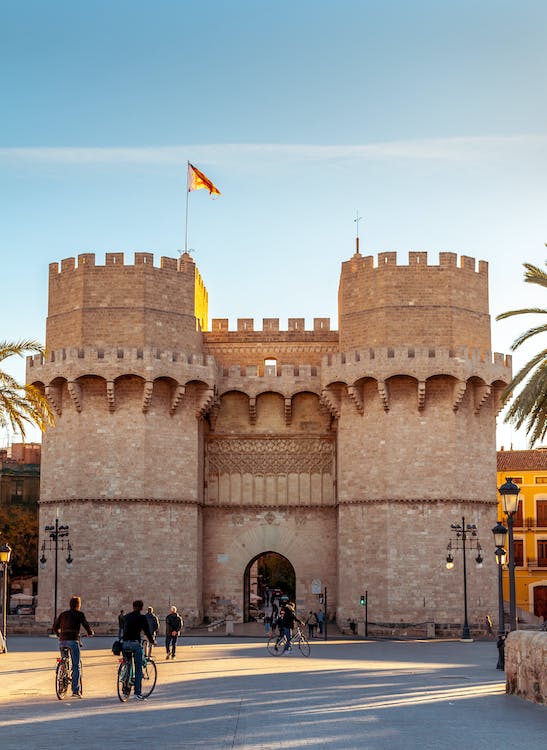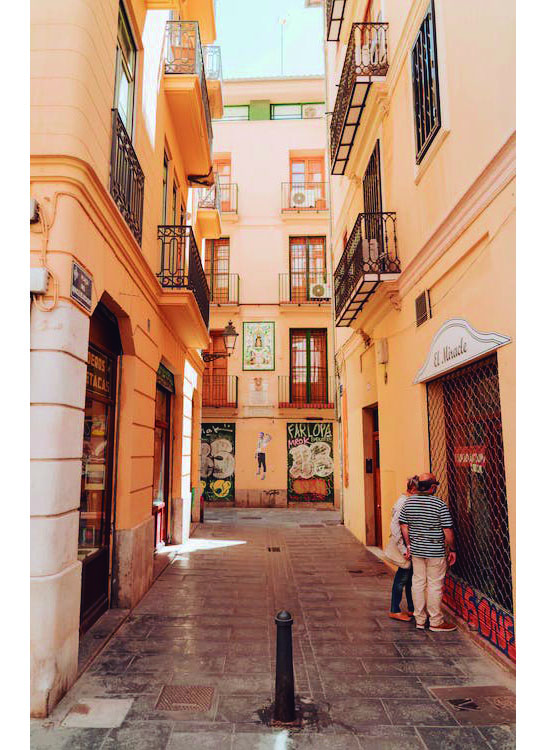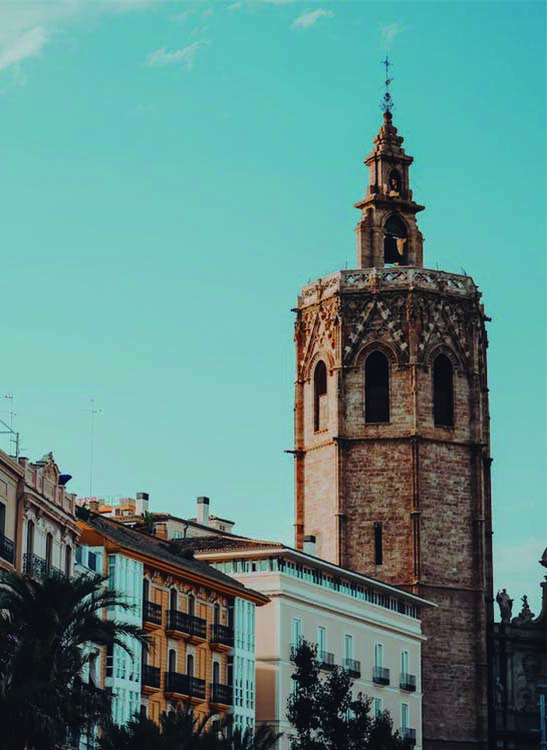 You can then enter the city center from the Carmen district. Located in the old town, it includes two medieval towers that were once part of the city's fortifications. Composed of various narrow streets; the museums, restaurants and bars are its charm. At night, this place is also a meeting point for dancing.
A little more to the East of the city, la Plaza de la Virgen can be a significant step of your bike trip, as this square is framed by historical and religious elements, among which the Cathedral. This last monument was originally a Roman temple, then a mosque, before taking up its present role. Having passed through the ages, this place of worship has different architectural influences with a predominantly gothic style. Its current design originated in the XIIIth century. It is also said to hold the Holy Grail, a major religious piece for the Christian community.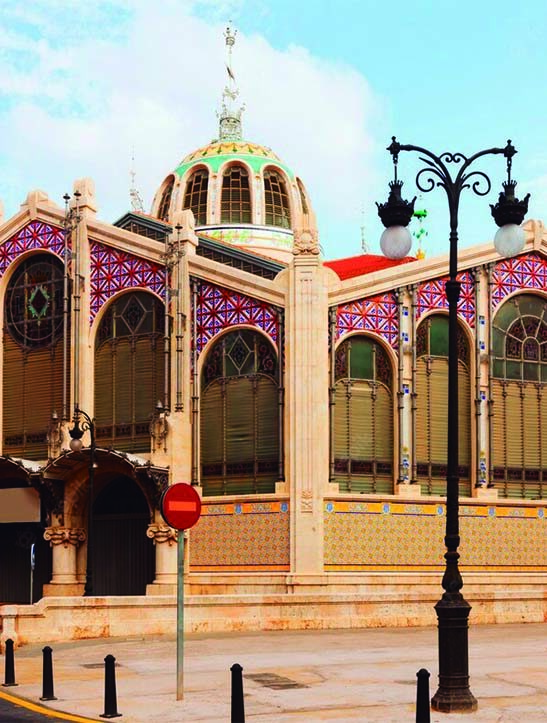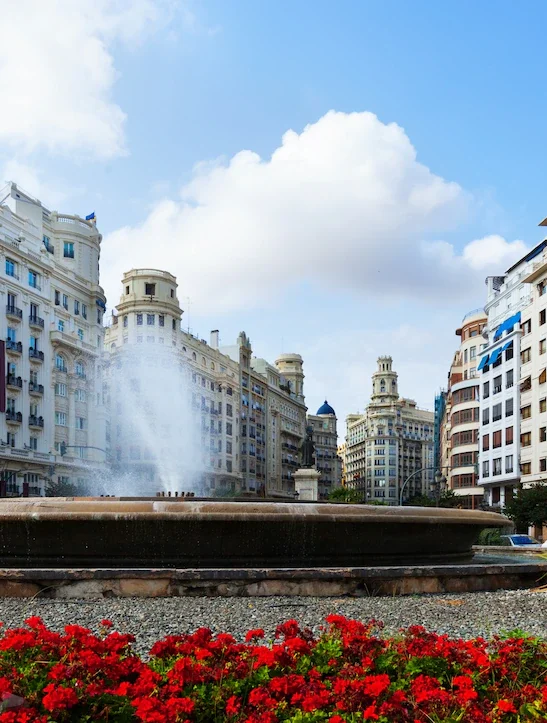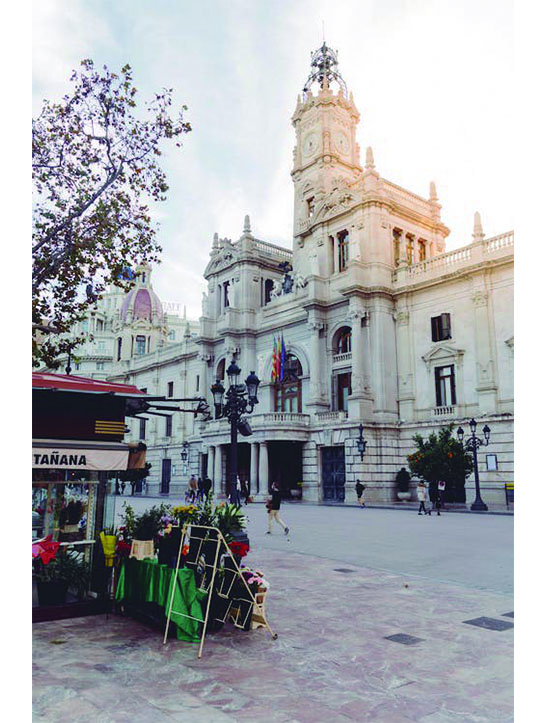 If you head towards the South, be sure to make a stop at la Lonja de la Seda, an ancient building representing once again the medieval side of the city with a gothic touch. If you need a bit of quiet, there is a little hidden place next door called Plaza Redonda, with tapas bars and other nice addresses to have something to eat and drink.
To grab local dishes for later, visit el Mercado Central. Established in the core of the city in 1928, it is no less than the largest fresh products market in Europe. These halls are tinged with scents of spices, citrus fruits, cold meats, cheeses and other shellfish. They also are a treat for the eyes of passers-by.
Cycling further South of the city, take a moment to admire la Plaza del Ayuntamiento with its fountain, along with la Estación del Norte. Opened in 1917, this unique building features mosaic ceilings, combined with the use of ceramics and forge.
A good way to end your trip would be to go to Ruzafa and Ensanche. With their numerous cafés, vintage shops, bookstores, bars and nightclubs; they will surely please you.
During your journey, know that in case you need it, at Santa Marcelita bikes, in addition to rent a beach bike in Valencia, you can also get repairs for all types of bikes (including road bikes). All the details can be found in our dedicated blogpost.